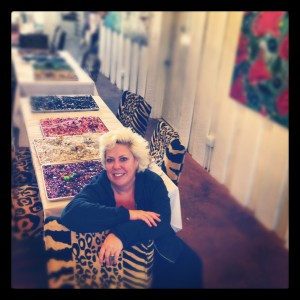 The Place: The Sugar Factory
The Cup: A lovely hot cup of home-brewed coffee with cream.
Background: Cup 18, Kim Schlinke told me about her friend Sugar and said I would love her. Boy, was she right! Gay Isber, aka "Sugar" is the owner of a groovy Austin shop called The Sugar Factory, where you can find unique clothing, jewelry, accessories and art made by 17 local artisans. Kim has some of her incredible garments in Sugar's shop, and beyond the business relationship, Kim thinks the world of Sugar.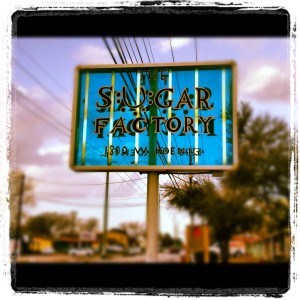 Like most people's stories, Gay's is filled with twists and turns, unlikely relationships, successes, heartbreaks and a whole lot of adventure. But unlike most of us, her adventure includes the untimely death of a husband she adored, 12 years living in a foreign country – which resulted from a one-week courtship that led to a marriage, a one-month solo trip through Canada documented via her Blackberry on Facebook and two master's degrees. And that's only the tip of the, well, sugar cube. Before we get into the details, how about some:
Common Grounds
How did you make your first buck? Babysitting.
What is your guilty pleasure? Taking a long, hot bath and enjoying a glass of wine.
What is the last thing you fixed? Jewelry.
What is your favorite movie? 5th Element
Who would you like to swap lives with for a day? Diane von Furstenberg
What is something you wish you owned? A new car.
What is the most interesting thing in your purse? Hand sanitizer.
What's the last book you read? Mark Twain
What food can't you live without? Eggs. They are fast and easy.
Gay grew up in Houston and with the exception of the 12 years of Tim Horton's and Loonies in Canada she has been in Texas. Why Canada? Well, as she says, "That's a great story!" With a come-on like that, I needed to find out more.
Gay was married and living in Pasadena (no, I didn't ask if she ever rode the mechanical bull). Her husband had passed away and after mourning his death for some time, she was ready for a new beginning. One she knew Pasadena could not offer her. An old-fashioned online relationship, pre-Match.com, had her married within a week and packing her bags (and her kids' bags) and headed to Toronto where she'd get that second chance.
The move is what she cites when I ask about the best mistake she ever made. The marriage didn't last, but what did were the friendships she made and the wonderful life she was able to give her boys. As she tells me, they got to be like superheroes in Canada. Big, tall, Texas boys were apparently not a common occurrence in the land of poutine. Gay also got to do a lot of superhero-style stuff.
For instance, when Gay realized she'd have to be in Canada a full year before she'd be able to work, she decided to take up painting. Her first stab at the craft earned her a spot in a prestigious Canadian art show. Beginner's luck? Hardly.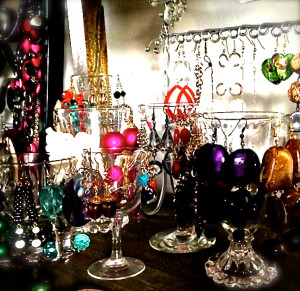 Gay is a creative genius and she tells me she always has been. When she saw she could earn a living selling her art, the businesswoman in her got practical and asked, "What kind of art is in demand and more portable than these gigantic paintings?" Jewelry! She made her first bracelet, which was an instant success, and she's been creating jewelry ever since. When I ask what she does every day that contributes to her overall success, sitting down and making stuff (usually jewelry) is her answer. She loves buying new product. But unlike me, who only excels at the craft supply purchasing, Gay actually sits down and gets to work. Every single day.
One of the things she is proudest of is the fact that through all the challenges in her life, she's managed not to burn bridges. As such, she's made a slew of interesting friends along the way. For example, there was the dude turning glass into crack pipes who she talked into making beads for her designs instead. There were also the scores of jobless and homeless she put to work when she took on a cutting-edge community project in Canada to turn an old industrial hydro-plant into a modern live/work space. Most people are all familiar with this concept now, but years ago, it was an "out-there" idea. And in Canada, forget about it. Aren't they still getting to work on dogsleds? I jest. When you're from North Dakota, the state most often confused with Canada, you are allowed to poke fun at them. Truthfully, they are pretty chill (literally) so I suppose they'd tolerate it from just about anyone. Plus, they are known for having great senses of humor, right? Or should I say, eh? Seth Rogan, Mike Myers, Jim Carrey…all Canucks!
I also learned about the boss Gay had who pulled her into her office after a few weeks on the job and told her she'd had to increase her dose of medication since Gay arrived on the scene peppering people with her obnoxious…ready for this???…cheerfulness. The woman actually told Gay that she was just too happy and that she needed to simmer down. I said Canadians were known for the sense of humor, not their niceness. I'd had sneeze attacks for longer than I'd known Gay at this point, but already I knew she was not someone who "simmers down". Thank God for that.
I found myself sitting in front of someone with artist talent pouring off of her; everything she tries, she's amazing at. Painting, jewelry, decor, design, party props, website creation – you name it, she can make it beautiful. Can you imagine my surprise when Gay revealed to me that what she really dreamed of was being an international corporate woman. Maybe working for a large oil company or something similar. What? Did I miss the punch line? Is this the punch line and I missed the set-up? Nope.
Gay recounts for me the years she spent trying like hell to fit into the corporate box. She applied for every job she could. She says, "I tried so hard! I tried like it was my religion." But it wasn't in the cards. With regard to her artist life she tells me, "I have tried to escape my path many times. I always felt I could have really made a difference in a corporation." The emphasis on the word "really" makes me wonder if she questions the difference she's making today.
Gay's path back to Texas is another interesting story, although this one doesn't involve a shotgun wedding to an international man of mystery. Even better, really!
Armed with her Blackberry and a tankful of gas, Gay set out on a month-long, solo, cross-country Canadian road trip. During that month alone she had one amazing experience after another and she decided she'd tell the world about it via Facebook. Every night, no matter how exhausted she was, she pulled out the Blackberry and documented her incredible day before drifting off to sleep, usually in her car. She knew people were reading her stories and that she had a loyal following, but she'd soon find out just how crazy they were about her.
After the solo adventure, Gay took a quick trip to Texas to attend a high school reunion. She was shocked to find out that among her classmates, she was quite the sensation. People had followed her journey and felt connected to her in a way that surprised her. They learned about her jewelry and her art, and they wanted to support her. So they threw her a party and bought tons of her jewelry. She had made a huge splash and again the businesswoman in her started thinking. Canada vs. Texas. I won't get into a lengthy compare-and-contrast here, just point out a striking similarity - population. Texas and Canada have almost the same number of people living there (aka potential customers). But for as big as Texas is proud to be, Canada is a whole lot bigger. Which means a whole lot more traveling between cities to get her product out there. Her decision was made and two years ago, she moved to Austin and created The Sugar Factory. At first she just sold her own art and jewelry, but a year ago she expanded, and rents out space to 17 local artisans with a wide range of talents.
I ask Gay about the most significant thing that's happened in the last 30 days and she tells me she's hired a sales rep who will be hitting the road to take Gay's jewelry to stores all over Texas – something she doesn't have time to do while running a retail operation. I ask her if she has plenty of inventory and with a cocked eye and raise of an eyebrow she says, "Honey, I'm drowning in the stuff. I'm a prolific jeweler." There are certainly worse vices to have.
What's next for the incredible queen of sparkle and awesomeness? Something totally different. But something she is obviously quite passionate about.
While driving back to Texas from Canada Gay was thinking about her favorite author, Mark Twain. Unquestionably, one of America's greatest authors and story-tellers. And yet, he admitted that when it came to telling his own story, he struggled. In fact, he ended up dictating his life tale through a series of stories that would later be published as his autobiography. This idea struck Gay as fascinating. She says, "If Mark Twain had a horrible time writing his own story, why do we tell Grandma she should write hers?"
Gay has created a side business called Five Star Memoir that she hopes to get more involved with soon. The idea involves sitting down with someone and recording their stories, gathering pictures and turning that into a book along with the complete recordings. Through this process, Grandma's stories can come alive, even after she's gone. Gay is passionate about this business and looks forward to having the time to devote to it.
What would Gay say in a 30 second speech to the world? "Be generous of the heart. Give without thinking. Give until it hurts. Give because it's the right thing to do. Give without expectation."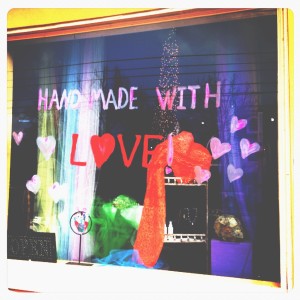 This is obviously a mantra that Gay lives by. She embodies the word generous. Whether it's her time putting together an event that she may not make a dime on, hosting a jewelry making class as a gift to the child abuse prevention non-profit she works with, offering business advice to a struggling artist, making homemade chili for the team working on an outdoor photo shoot, or opening up her home to a total stranger, brewing up a pot of coffee, and sitting down to tell her story.
Gay gives. And gives. And gives. And as I think of the happiness my brief knowing her has brought me, I can't help but think that had she ended up in the corporate gig she thought she was destined for, our paths likely would never have crossed. I know I'm not the only one who'd agree that life would not be as sweet without Sugar.